Smallest and lightest in the market! Freely movable around beds!
Multipurpose imaging capability and flexible mobility
Lightweight, compact and cordless design fits various environments and assures high quality image.
"Hybrid power" with DC and AC enables cordless imaging, which can be useful in emergency.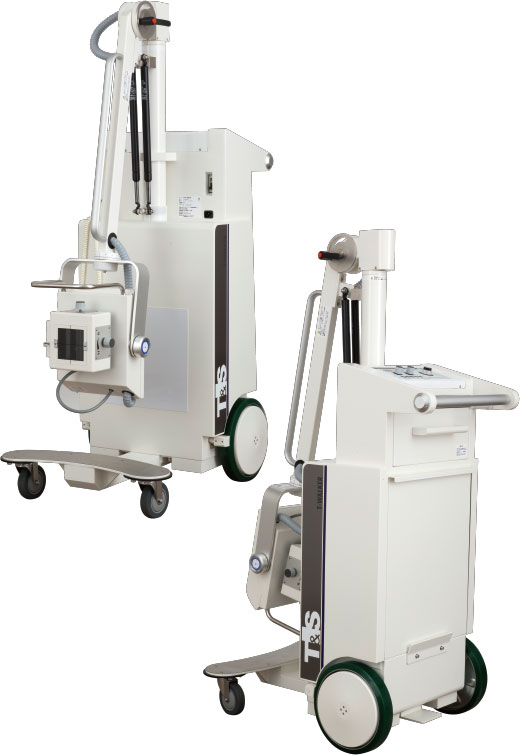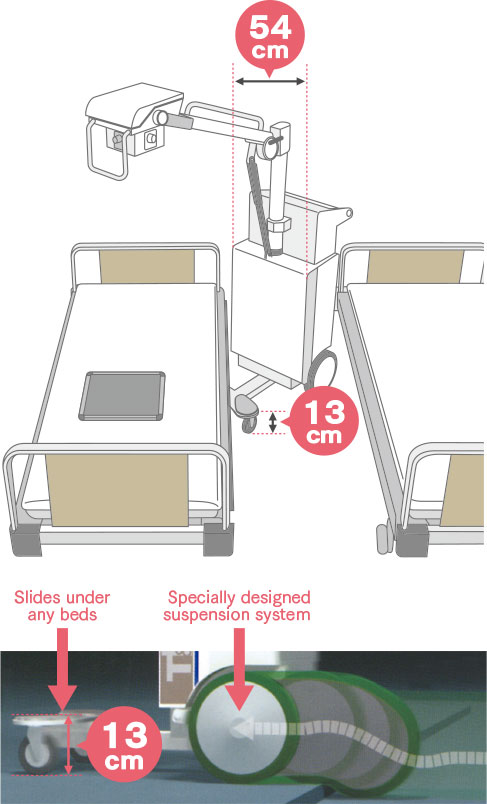 Hybrid Power with DC & AC power supply
"Hybrid Power" with DC & AC enables cordless imaging,which can be useful in emergencies.

Industry's 1st achievement with AC having the same output level as DC.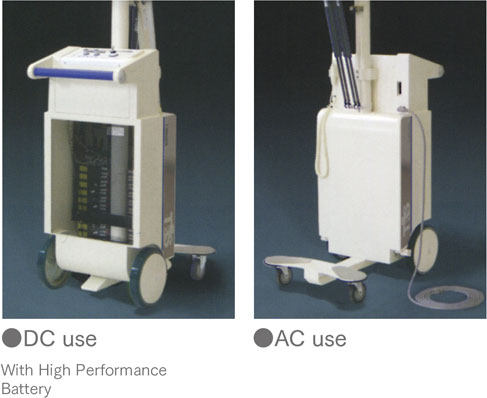 Stabilized output by battery & inverter
Plural high-performance battery for DC
Easy & stable power source by being equipped with an exclusive AC circuit.
Stabilized X-ray output is available without complications by adopting the inverter method by the special smoothing circuit.
Reduces unnecessary exposures
Safe photographs in a short time


Easy & Quick to Set
Volume dials for quick and easy exposure
condition (kV & mAs) settings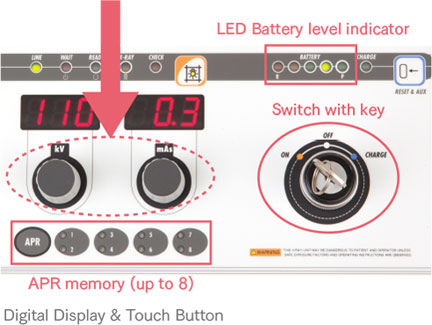 Generator
Rating

Tube Voltage
mAs
APR
X-ray Tube


Battery (DC use)

Battery Charge (DC use)



AC Power Source
(only for DC/AC model)

Arm type
Arm mechanism

Collimator

Weight
Inverter control system
80kV/80mA
110kV/50mA
40~110kV (1kV step)
0.3~64mAs (33 steps)
8 memories
Focal spot: 1.6 (mm)
Anode: fixed
Anode heat capacity: 42kHU
X-ray power supply: DC 240V (12V/20 ea)
for control: DC 48V (12V/4 ea)
Charging time: approx. 10 hours
Single phase 100~120V 50/60Hz
Single phase 200~240V 50/60Hz
Power supply capacity: 200VA
Single phase 100~120V 50/60Hz
Single phase 200~240V 50/60Hz
Power source capacity: 2kVA
Pantograph
Gas spring
The arm is precisely designed and balanced by springs.
Moving aperture
(lights up the exposure area for 30 sec.)
Approx. 155kg
Accessories
Battery
Battery Charger
2 Power Cables for AC operation (+DC) and DC charging
Hand Switch (for exposure)
License for manufacturing/
selling of medical devices
・T-WALKERα |21600BZZ00390000
Options
Remote Controller
DAP (Dose Area Product)
Holder for Note PC
Cassette Box: cassette for 15 pcs
Cassette Box inclu. grid case: cassette for 10 pcs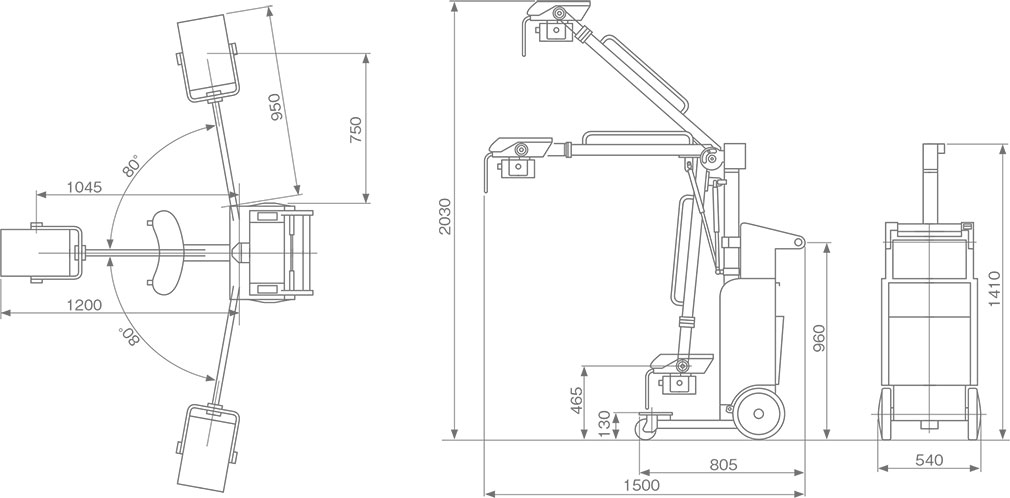 E-mail
TEL
contact@aiim.co.jp
+81-3-6273-4035